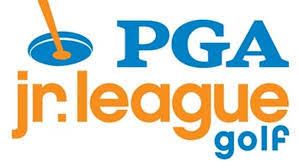 NEW LOWER PRICE! $99

+tax and fees



2023 PGA Jr Player Development League
Registration Is Now Open !



What is PGA Jr League?



PGA Jr. League is a game-changing opportunity for boys and girls to learn and play golf. The program brings family and friends together around fun, team golf experiences and focuses on fun, recreation, good health and sportsmanship.

PGA Jr. League is recreational and developmental in nature and works with PGA Sections and local youth organizations across the country to offer an alternative, social golf format. This unique approach highlights team play versus individual competition and serves as a feeder system to transition youth golfers to existing junior golf programs.

Boys and girls of all backgrounds and skill levels learn, practice and play together in a supportive, two-person scramble formatted game that encourages mentor-ship, builds confidence and promotes sportsmanship and teamwork.
Who runs it?
Kerry Fitzgerald, Head Golf Professional, will Captain both Trapp River & Tribute Teams for our 5th season entering 2023.

Who can join?
PGA Jr. League is open to any child ages 9-13 as of July 31. (The recommended minimum age is 9, however younger players may be able to participate at the discretion of coach Kerry)

PGA Jr. League is open to both boys and girls! Due to the program's nurturing scramble format, all teammates can work together and contribute to winning their game, regardless of gender. Boys and girls of similar ability play and compete together in any match pairing (boy-and-girl, girl-and-girl, boy-and-boy). There are no separate divisions. Tee boxes and yardages are age/ability appropriate.

PGA Jr League is gear toward newer players giving them a less stressful introduction to competitive play. If your child plays at a higher skill level for their age and has already been in junior golf tournaments please contact Coach Kerry before signing up for PGA Jr League online.
Schedule of Practices & Competitions?
Who do we play matches against?

NEW for 2023
The plan for the upcoming season is to have what is called an "In House" PGA Jr League. What does that mean?

I would really like to have up to 40 players join our program so we can have two divisions one for newer players and one for more advanced players. This way we can cater the practice sessions to the needs of the players. Once we have our roster of players and we have two preseason practices, I will try to arrange the players onto teams and place them in the best division for their ability.

NOTE: If friends or siblings wish to play together, please let me know after you sign up through PGA Jr. League.

Here is a quick overview of our schedule.

Minimum of 6 golf matches 3 at Trapp River and 3 at Tribute GC All matches will be Sunday afternoons about 430pm

Use of Driving Range & Golf Course at each practice Each team will have 4 supervised practices with Coach Kerry during the season. Practices will be on Sunday afternoons at Trapp River.

Free use of the Trapp River practice range for participants anytime during the PGA Jr League Season.

END OF YEAR GOLF SKILLS COMPETITION & PARTY!



This is our Tentative Schedule for this season. All matches and practices will be on Sunday afternoons at Trapp River times TBA
All Matches will start at 4:30-530pm
Practice times will be announced.
Y
ou have read all the basics.
Love what you have read so far?

If you have any questions, please do not hesitate to contact me.
Kerry Fitzgerald, PGA
715-846-5072 cell/text
kerry@golfinwausau.com
2023 REGISTRATION is now open !! You must sign up through the PGA at the link below.

You will be signing up for the Spring/Summer session in the 13U (13 and under age division) Sign up as a Trapp River player and I will assign players to a team after sign up deadline of May 6th. If you have siblings or friends that wish to play together on a team, contact me personally after you sign up through PGA Jr League.
FORMAT OF COMPETITION
The following information gives more details about how competitions work. During the course of one game, teams play four 9-hole matches in a popular two-person scramble format, reinforcing the team concept and creating a nurturing environment for learning the game. Coaches can also substitute players every three holes, so that all of the golfers on each team can participate.
Game
A game is played between two teams. Depending on who the home team is, in addition to course scheduling and availability, will determine where the game is played. During the course of a game, four matches are played by at least two players from each team against each other. The winner of the game is determined by the total number of points won within all matches.
Match
A match consists of two teammates (or three, with a substitute) competing against a similar grouping from the opposing team in a fun, nurturing scramble format. The match lasts for nine holes and is broken up into three 3-hole segments called "flags".
Flags
Flags are 3-hole segments of each match. Since each match is played over the course of 9 holes, there are three flags per match. Whichever team wins the most holes within each flag (i.e. 3 holes-to-0 or 2 holes-to-1 hole), wins the corresponding flag.
Points
Each flag won by the team is worth one point. Each tied flag won by the team is worth a half point. The team with the most points at the end of the game wins. Since there are four matches in each game, and each match is played for a maximum of three points, there are a maximum of 12 points total in each game.
Scramble
A scramble is a popular format that encourages teamwork and problem solving. Its nurturing nature creates a fun environment where the negative effect of performance errors is minimized. Each player will tee off at the beginning of each hole. The team then selects their best shot of the two and then each player plays again from the spot of the selected shot. Repeat this process until the ball is in the hole. The team with the lowest score wins the hole.
Spectators
Friends, family and spectators are encouraged to attend and watch - you are permitted to encourage the players but NOT COACH them.
We traditionally will have some golf carts available to aid in watching the matches and transporting the players when necessary.

2023 REGISTRATION is now open !! You must sign up through the PGA at the link below.